Boo! Welding Hat
Sale price
$23.99 USD
Regular price
Unit price
per
Description
Protect your noggin in style with Boo! Welding Hats - handmade and proudly made in the USA.
Introducing the Boo! Welding Hat, a premium quality welding cap made in the USA with top-notch craftsmanship. Each hat is meticulously handmade using only the finest materials to ensure maximum durability under intense working conditions. The design features a sleek style that ensures comfort and protection for welders throughout their workday. With its unique blend of functionality and aesthetics, this welding cap boasts an unbeatable value you won't find elsewhere on the market. Whether you're a seasoned pro or just starting out, trust Boo! Welding Hat to provide ultimate comfort and superior performance every time.
Superior Quality: Pre-shrunk 100% cotton fabric, fully lined, double rows of stitching through out
Welding Hats are handmade in the USA with high quality materials to ensure durability and long lasting use
Comfortable Fit: Our welding caps provide a comfortable fit that stays put during even the toughest jobs, ensuring maximum protection and comfort for your head
Stylish Design: With a variety of colors and patterns available, our welding hats offer both style and functionality on the job site
Welding Hats are priced affordably, so you can get the protection you need without breaking the bank
Customize and purchase the Boo! welding cap. Made in the USA from 100% preshrunk cotton, reversible and hand made to your order.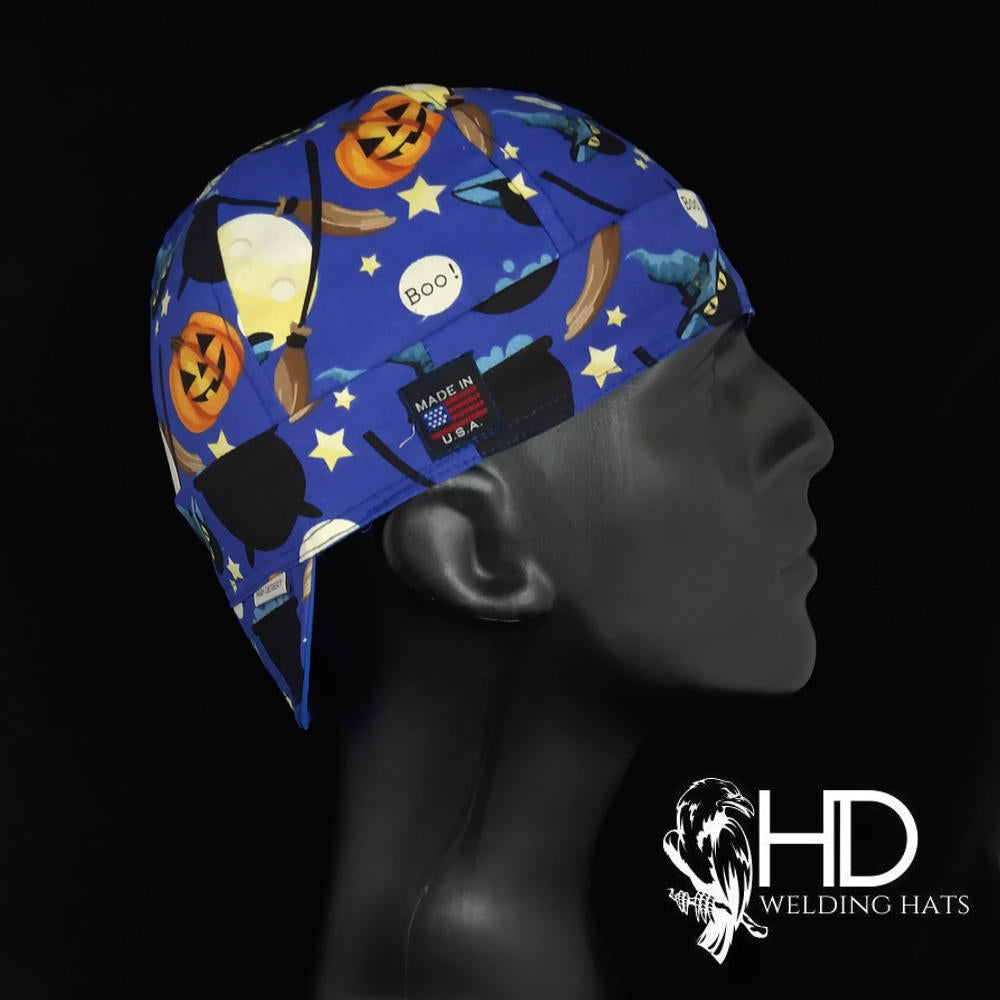 Collapsible content
Size Measurements: 

7 - 22 1/8" 
7 1/8 - 22 1/2" 
7 1/4 - 23" 
7 3/8 - 23 3/8" 
7 1/2 - 23 3/4" 
7 5/8 - 24"
7 3/4 - 24 1/4" 
7 7/8 - 25
Features

100% preshrunk cotton fabric. 
Fully lined and reversible. 
6 panel crown section with full brim. 
Brim uses 14 oz FR denim for strength, flexibility and durability. 
Double rows of stitching at all stress points/areas. 
Sweatbands & Embroidery Details

Below are pages that provide details about the embroidery, sweatbands and FR features provided by HD Welding Caps. 

Embroidery Info

Hat Extras

CarbonX Brim - Carbon X is on hold while I search for a wholesale supplier. 
FR Denim Brim - FR Denim is now used in all medium and dark colored fabric caps at no extra charge. 

If you have further question feel free Contact Me
Care Instructions

HD Welding Hat Care Instructions:

Proper care ensures the longevity and quality of your HD Welding Hat. Follow these guidelines to maintain your welding cap in excellent condition.


General Care for Cotton Fabric:
1. Washing: Machine wash your welding hat in cold water using a gentle cycle. Avoid using bleach or harsh detergents, as they can damage the fabric and embroidery.

2. Drying: After washing, reshape the welding cap and let it air dry. Avoid high heat settings in the dryer, as excessive heat can shrink or distort the fabric.

3. Ironing: If needed, iron your welding hat on a cotton setting. Avoid ironing directly on embroidered areas to prevent damage. Place a thin cloth between the iron and any embroidered area.

4. Starch Application: Apply a light starch to the brim of your welding hat to help prevent sparks from adhering. This enhances safety and reduces the risk of sticking.

Embroidered Items (Rayon and Polyester Threads):
1. Washing: Turn your welding hat inside out before washing to protect the embroidery. Use cold water and a mild detergent. Avoid soaking.

2. Drying: Gently shake the cap to reshape the fabric and embroidery. Air dry your cap on a flat surface, away from direct sunlight or high heat.

3. Ironing: Iron the cap inside out on a low to medium setting. Place a cloth over the embroidered area and avoid excessive pressure. This prevents the threads from melting or distorting.

Heat Transfer Vinyl:
1. Washing: Turn the welding hat inside out before washing to protect the vinyl. Use cold water and a mild detergent. Avoid scrubbing or wringing.

2. Drying: Pat the vinyl area dry with a clean cloth after washing. Lay the cap flat to air dry, ensuring the vinyl design is not exposed to direct heat or sunlight.

3. Ironing: Iron the cap inside out on a low to medium setting. Place a cloth between the iron and the vinyl to prevent direct contact. Avoid using steam.

Additional Tips:
- Avoid exposing your welding cap to extreme heat, flames, or chemicals when not at work, as they can damage the fabric and embroidery.
- Store your welding hat in a cool, dry place to prevent moisture buildup and odors.
- Regularly inspect the stitching and embroidery for loose threads. If you notice any, secure them to prevent further unraveling.

By following these care instructions, you'll maintain the appearance and quality of your HD Welding Hat, ensuring its durability and safety during your welding activities.